*Castmaster*
Sup fellas! I haven't posted anything for over a year because I haven't fished for over a year. All those posts of nice hookups on different forums, and from friends in FB kept me drooling! Yup it sucked! But, a couple of weeks ago, finally I was able to go join our local club's 4-day season opener fishing tournament. But I opted out of the competition and just opted to fish without any pressure. I rented the club's panga with a boatman and a helper. I pretty much jig my arse off for 4 days, and loved all the pain that came with it. I brought along a new VS VR200. Right of the bat, the reel had a hookup, and had two long screaming runs and then "toink" busted line! Damn! Its like the gods of the deep are teasing me! After that, I caught a couple of average size GTs with the VR200. All I can say is that the VR200 is a solid reel. Any reel that survived 4 days straight of jigging heavy 200gm to 400gm jigs down deep over and over again plus the pull of the fish is good in my book. Then there's the Accurate Boss Valiant 300. For some reason, this reel is a fish magnet. When I bought this reel at Melton, a couple of days later it was on a plane with me in Cabo. I didn't even have a rod for it yet so I used the charter's rod, guess what it caught a nice YFT with it. This trip it hooked up a nice wahoo on a jig! I was worried at first. I had it still spooled with the 20lb mainline Powerpro and 30lb topshot of Sufix832 for more line capacity. As the fight ensued, I knew it could handle it! That was an awesome tug-0-war; a small reel vs a big fish! Well I'm glad to be on the water again!

Big fat wahoo!

Another beat up set of jigs!
Awesome reel - the Van Staal VR200.


Video of the Boss valiant 300 - Wahoo dogfight! Small reel; big fish!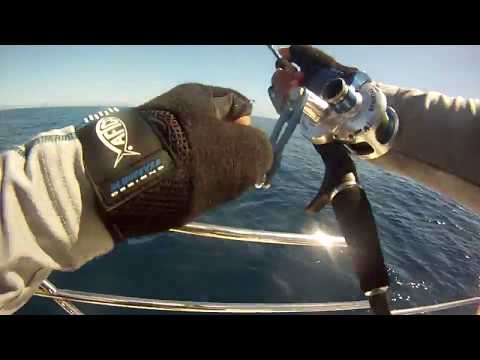 VR 200 GT hookup! Drag did not even scream...